Release Notes
2020-07-21
What's New?
We've Expanded ASN Support. It's more robust as we've improved how we display tares/pallets, packs/boxes, and items. They're all arranged hierarchically, no matter the hierarchy in the ASN—and if you've had problems in the past using the ASN for reconciliation, those problems should be resolved. If you haven't used the ASN in Syncrofy for reconciliation, now would be a great time to start!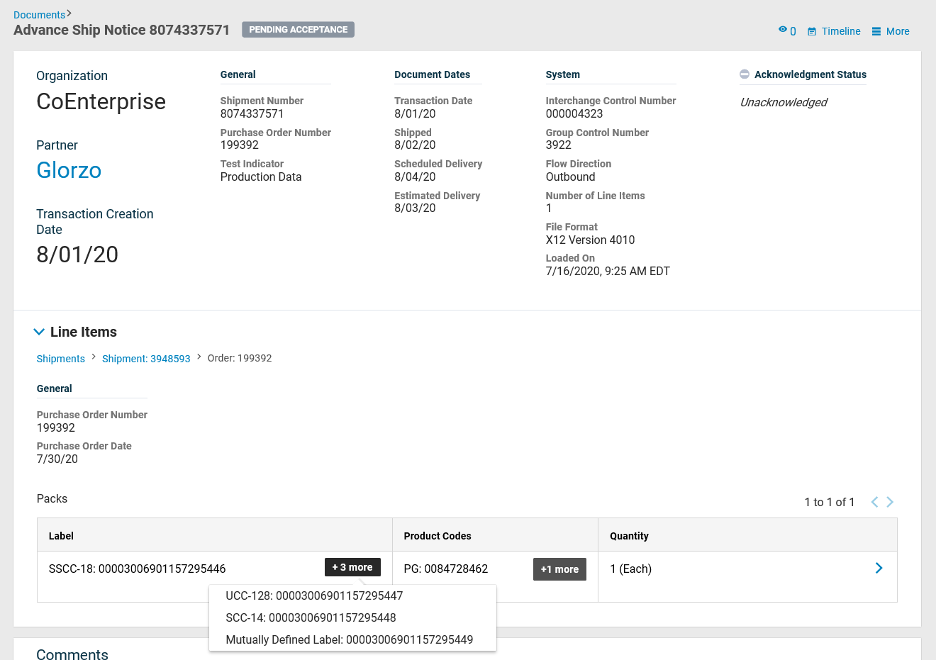 We're also including the Bill of Lading, Carrier's Reference Number, and Tracking Number on the ASN. You'll be able to view these values in all of your ASN document list views—making it easier to export a list of shipments with their tracking IDs.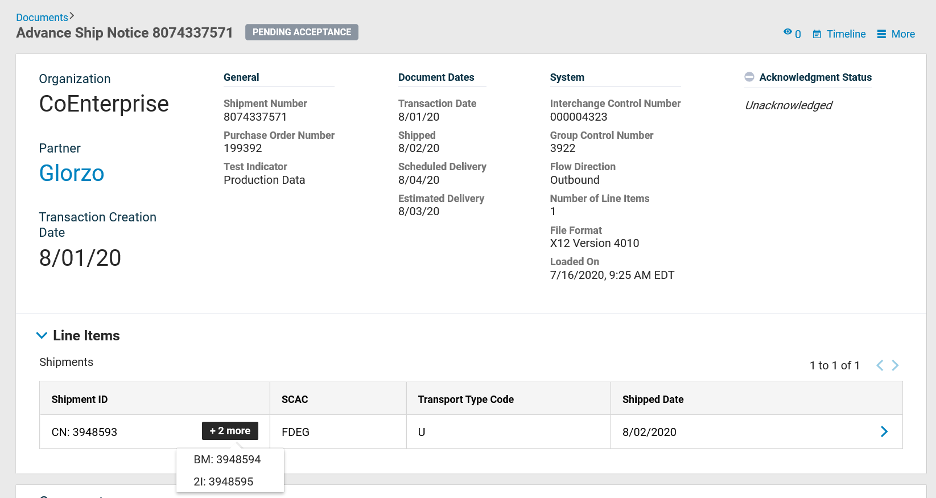 Trading Partner Management Got a Major Upgrade! Do you add new trading partners regularly? If so, you may have found it a little tedious to set them up in Syncrofy. For every document with identifiers Syncrofy doesn't recognize, you are alerted of a Missing Partner Exception. This list can quickly become overwhelming. However, the good news is we've completely redesigned this process from the ground up! Click here to read the help article and learn more.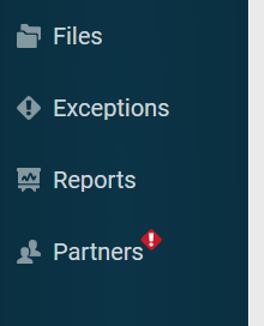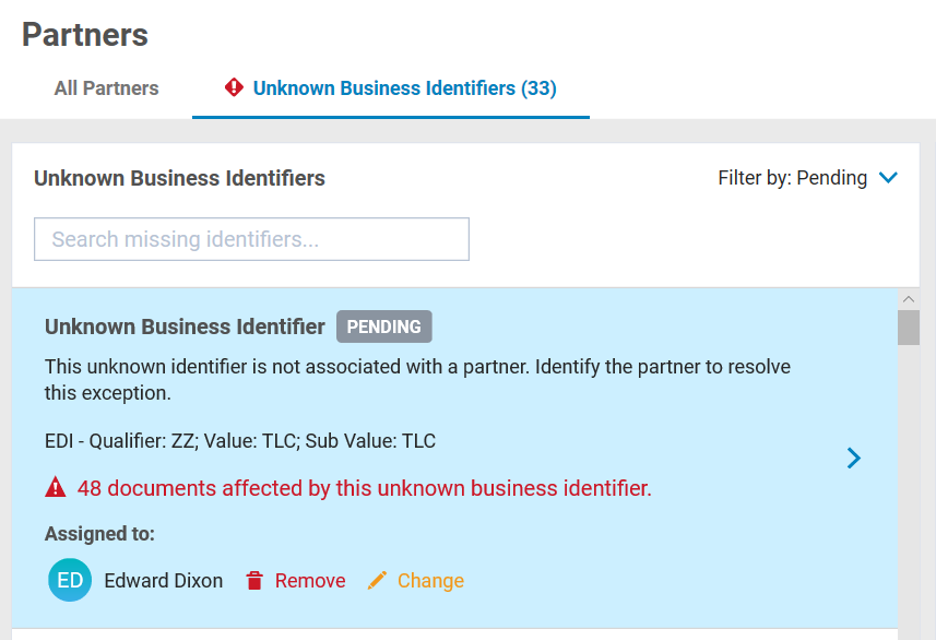 2020-06-04
What's New?
Easily Update Partner Names. Ever add a new business partner and mistype their name? Or maybe your business partner merged with another company or rebranded, and you still see them in Syncrofy under their old name. This used to be a complicated fix—but now it's as easy as going to the partner's page, clicking the Edit icon next to the partner's name, and updating the name. That change will be reflected on all documents for that partner in search, document list views, and dashboards. Remember, if the partner has a lot of documents, give it a few minutes to update.
More Ways to See Errors. We've made some major upgrades to how Syncrofy displays EDI errors. If a document has a Functional Acknowledgment (997) or Application Advice (824) with errors, they will now display on the original Purchase Order, Invoice, Advance Ship Notice, etc. You'll also be able to view these errors in the Document List Views, by choosing the filter "Has Errors," selecting "True,"and adding the column "Error Summary. We'll be soon enhancing the CSV download so you can easily perform additional analysis on errors (type, frequency, segments, etc.).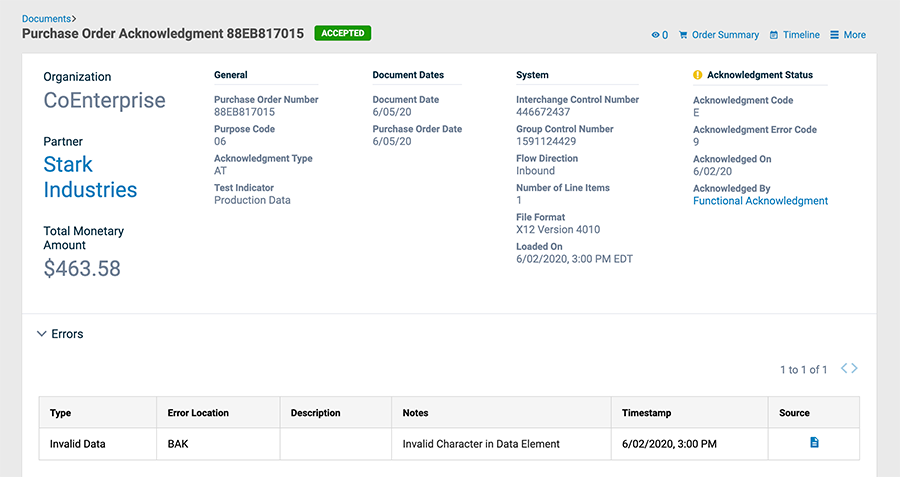 Note: If you don't see this new error functionality, let us know—it requires a Local Agent update on your end and a quick configuration change on ours.
Even More Exceptional. We improved our exception popovers so now you can assign exceptions and resolve them with one click, rather than having to open another menu.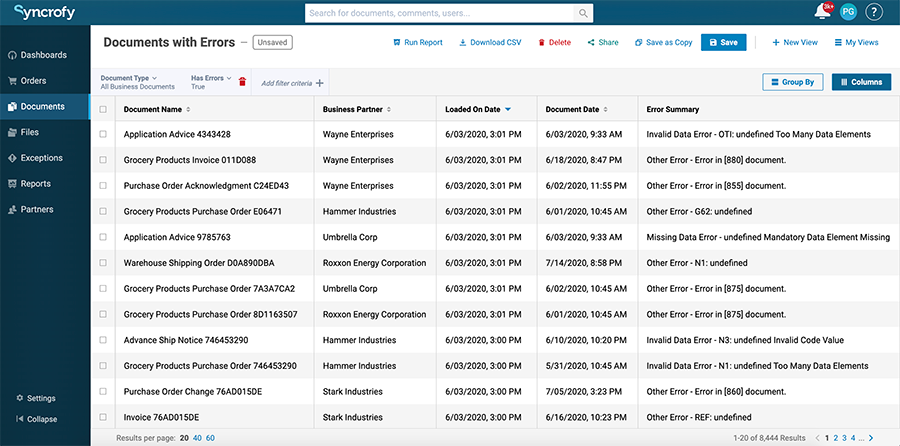 Bug Fixes
As always, this release includes some small bug fixes as well to enhance your Syncrofy experience.
2020-05-19
What's New?
An Easier Way to Find Document Lists. You can now search by the name of the document list view, or favorite up to three lists! They'll then appear at the top of the Documents list page so you can get to them with one click.
Wondering Who to Contact When an Order Has a Problem? That information may be in the PER segment in the document, but you couldn't see it in Syncrofy. Well, now you can! Look in the Addresses and Points of Contact section. Syncrofy displays all of the contacts included in the EDI. You'll have to update your Local Agent to see this new information.
Dashboards—Line Charts with Splits. If you've tried to create a line chart comparing last year's data to this year's data, or split by trading partner and limit it to just your top five partners, you may have seen some strange results. That won't happen anymore! You can limit the number of lines in your chart, and everything will look great!
Bug Fixes
Lots of other small but important bug fixes, including continued migration to our new messaging service.
2020-05-12
What's New?
Getting Strict with Correlations. Business partners in Syncrofy allow us to group all of the documents for a single partner together, regardless of what identifiers each document uses. For example, if both identifiers "ZZ/ABC/ABC" and "ZZ/123/123" belonged to trading partner "Acme" then all documents with those identifiers will be labeled as "Acme." Taking it a step further, Syncrofy will also correlate purchase orders with invoices or functional acknowledgments even if the IDs do not match. Most of the time it's peachy but sometimes users may want greater control—which is where strict ID checking comes in.

You can now tell Syncrofy to only correlate documents when the IDs match exactly (either globally for all identifiers or specifically for certain partners). This means that both "ZZ/ABC/ABC" and "ZZ/123/123" will be labeled as "Acme." However, a purchase order for "ZZ/ABC/ABC" and an invoice for "ZZ/123/123" will no longer show up on the same timeline. To learn more about this new advanced setting check out the Help article.
We Organized Organizations. It was time for some spring cleaning so we reorganized the old "Company Profile" section of the Settings page and renamed it "Organizations" to better reflect the purpose of that page.
Bug Fixes
Lots of other small bug fixes and improvements to keep everything running smoothly.
2020-03-10
What's New?
Must Go Faster! Increased loading performance of Document Detail Screens by 10 times.
Bug Fixes
Lots of other small but important bug fixes.
2020-01-15
What's New?
Extreme Makeover: Tables Edition! Tables throughout Syncrofy have been given an overhaul. The same treatment we gave tables in Documents, Files, and Exceptions a few months ago has been applied to the rest. This includes columns that auto size to the content, sticky headers, and other nice features to enhance the readability and usability of Syncrofy. This is just the first pass with more refinements in the coming weeks!
Bug Fixes
Fixed: Syncrofy now supports underscores in business identifiers. Previously, Syncrofy would choke when it came across these IDs, but as you'd expect, we've taught our flagship software some new tricks to effectively handle these IDs.
Fixed: We had an issue where two related documents that were processed at nearly the exact same time would not properly correlate to each other. To prevent this, correlated documents will now be processed sequentially to avoid this annoying race condition.
A few other bug fixes and improvements.
2020-01-07
What's New?
Excelsior-er! Check out the new fixes to the Excel download for invoices, specifically around separating some fields to make printing easier!
So fresh and so clean. We gave a general polish to and cleaned up a few UI components that were starting to show their age to make them look clean, fresh, and modern. Cleaned up radio buttons, toggles, cards, and modals as well as made a minor visual tweak to the Settings page. While we were at it, we also fixed a number of other UI issues including some annoying ones such as certain 852s failing to load, menus rendering in a weird order, and some dashboard rendering issues.
As always, we also made some additional bug fixes and improvements to enhance your experience.
Local Agent Update
Did you think referencing purchase orders in the Planning Schedule (X12 830) or the Receiving Advice (X12 861) should be available in Syncrofy? We agree! We are now exposing the PO number on both those documents, correlating them in the Timeline and making them available in Search! Note: This functionality requires Local Agent v5.22.0 or later.
2019-12-19
What's New?
Excel-sior! Do you enjoy tinkering with data in Excel or somewhere else? Want to print and any format will do? Do you want to do those things with invoices from Syncrofy? Have we got good news for you! Download invoices from the Document Detail Screen as an Excel file and tinker away!
"Bad" local agent no more. The Syncrofy Local Agent will no longer misbehave if MongoDB goes down for some reason—like an SSL certificate expiring. It will wait patiently for Mongo to return and gracefully recover where it left off.
Filter criteria's usability facelift. We've made filtering way easier! Previously, you had to click outside the box to apply a filter. That would cause you to occasionally click on somewhere and be whisked off to another page before you knew what happened (nobody was a fan). Now, simply click an OK button and go about your business as you intended.
Resolving missing partner exceptions more efficient! We'll no longer brute force reprocess all files containing these IDs. Now we'll find only the existing documents, timelines, and indices we need to update and put far less burden on the system when processing large batches of missing partner exceptions. You'll notice some speed improvements and our servers will be much happier.
Bug Fixes
Fixed: Syncrofy was a bit aggressive when it came to acknowledging documents with 997s across organizations. This meant that a 997 from one organization could acknowledge a PO from another (not cool). We will now only consider documents from the same organization when correlating functional acknowledgements.
Fixed: Added a safety check to make sure widgets with split fields configured won't crash the dashboard if they're not completely configured.
Fixed: GS identifiers with spaces in them were preventing our customers from resolving missing partner exceptions created by these. We fixed that by making documents with spaces in their GS IDs create file processing exceptions instead.
We made some other small but mighty stability fixes and system improvements.
2019-11-26
New features and enhancements:
Added the ability to filter for Application Advice (824) documents that could or could not be fully correlated.
2019-11-13
New features and enhancements:
You can now mass delete up to a page of documents at a time from the Documents List page.
System now displays product information in Price Authorization Acknowledgment (845).
Address information is now visible on Product Activity (852).
Bug fixes and UI improvements.