Managing Notifications
Customize your alerts in Syncrofy by subscribing only to the document events and user activity that you want to see. Notifications enable you to receive active alerts pertaining to shared Dashboards, Reports, Exceptions, and specific document events.

Notifications Settings
Click Settings in the left-hand navigation menu.
Under the "User Settings" heading, click Notifications. This will take you to main "Notifications" screen where you can manage them.
Managing System Notifications
With System Notifications, you can choose which of the general system alerts you wish you receive. These include some of the most commonly used features and document events. The orange checkmark icon indicates a notification has been activated.
To disable a notification, click inside the white box. Then, click the Disable button. A gray "X" icon will appear to indicate the notification has been disabled.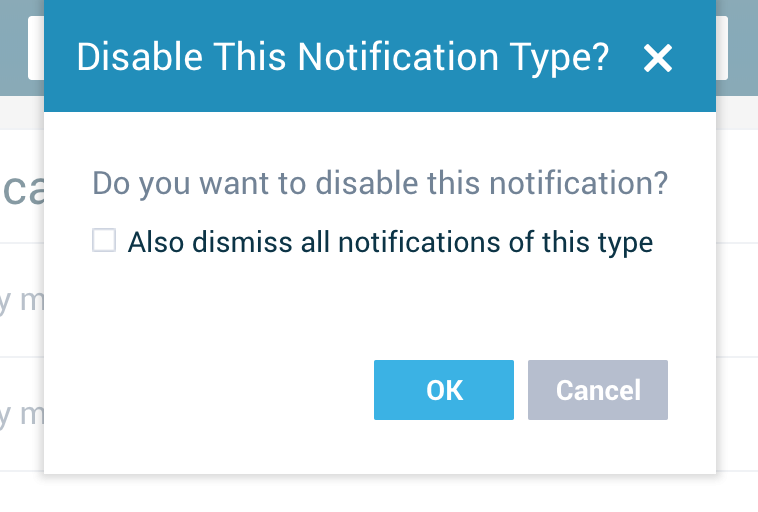 Note: To ignore all similar notifications in the future, select the "Also dismiss all notifications of this type" checkbox in the Disable This Notification Type? pop-up menu.
Managing Exception Notifications
You can choose to receive notifications based on the Exception Rules that have been created. To do so, activate or disable the specific SLA or Value Rule by clicking the orange checkmark icon to the right of the rule. Remember, you will only be able to see relevant Exception Rules based on your permissions.
For example, if you have not been granted persmissions to view documents from Partner A, you will not see Exceptions that are specifically intended for Partner A.

Adding/Managing Custom Notifications
Custom Notifications allow you to receive alerts on document events that occur within the system. For example, you can set up a notification to be alerted if a purchase order from a specific company is processed or if an invoice over a certain amount is processed.
To set up a Custom Notification:
Click the Add button to the right of "Custom Notifications."
Click the "Notify me when" dropdown box and choose the document event you wish to be alerted on (e.g. Invoice received, Purchase Order received, etc.)
Click the "Add Filter" link below dropdown box and select a desired filter (optional).
Click the Confirm button to save.
Note: To allow you to obtain the exact information you require, there is no limit to the amount of filters you can add.