Using Search
Syncrofy's Search feature allows you to find the data you need quickly, without having to sort through items that do not relate to your job duties. Whether you need to find a specific invoice number or the name of a user from your partner organization, you can do it all right here.
Searching for an Item
Go to the Search box in the upper right-hand corner.
Click inside the box and type in the item you wish to find (e.g. purchase order number, name of a specific user, invoice number, company name, etc.).
The item and/or related items will appear in the dropdown list.
Click on the item to be directed to it (e.g., for a specific invoice, you will be taken directly to that document in the Document Detail Screen).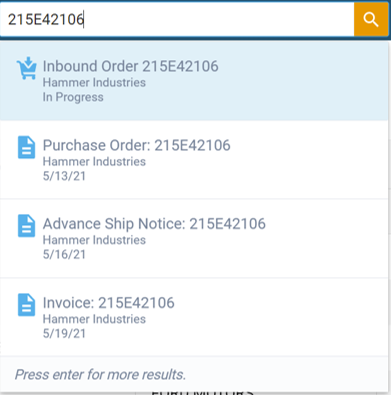 Note: Press the "Enter" button on your keyboard to see all of the Search results on a single page.
Searchable Items
Orders - A specific order number.
Documents - A specific document number.
Users - The name of any Syncrofy user within your organization or partner network.
Companies - Any one of your partner organizations.
Comments - Any word or phrase within a comment on the Document Detail Screen.
You can also search for specific B2B partners by their name or Business Identifier by utilizing the "Search Partners" box in the upper left-hand coern of the main "Partners" screen.

Note: Publishers can search ONIX files by author or title.
If you do not know the specific number of the document you are looking for, use Document Filters to find the item. If you are an invited partner, you can search for Documents related to your partner organization.